Would having an extra $20,170 help your down payment when buying a home?
Maybe you've already saved a bunch of money for your down payment. 
Or maybe you have nothing.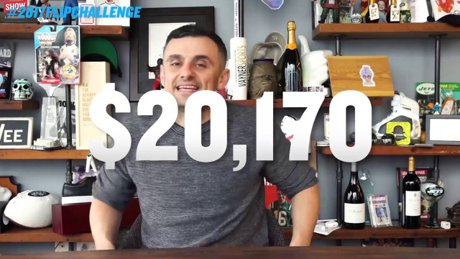 By the way, don't think you need 20% for a down payment. It's a huge myth that won't go away. (Contact us if you have questions or want a second opinion about down payments and getting a mortgage, by clicking here.)
Recently we came across a video by best selling author, wine expert and business owner, Gary Vaynerchuk. 
He talks about how to make an extra $20,170 in your spare time. 
Now we get excited about sharing the $20,170 challenge video and idea with our audience with the inspiration that if you can't save enough money for the down payment for your home, or you can't save fast enough, why not make some more money. 
Watch The Gary Vaynerchuk $20,170 Video Below
-
Some Highlight Ideas From The #2017FlipChallenge Video
0:03 It is my belief that everybody has a ton of tchotchkes, ton of former clothes, ton of electronics, different generation of iPhones, iPhone 4 sitting in your closet.
0:28 I believe that if you amass the hours that you allocate to iPhone game for three hours here, to when you're on the bus commuting for an hour instead of just reading, escapism's important, but if you want the $21,000 that I think you'll get the end of the year. I believe if you take that one hour when you're commuting and actually search on eBay and search what are clothes worth? What are hammers worth? Like what is this hammer worth? Yeah, $7.99 better than zero. Especially when you don't have it.
4:44 I don't want you to take time away from your business. I don't want you to take away time even away from your family. I want you to take your time away from other dumb shit, if you're complaining. If you don't complain, and you don't want the $20,170 then do you. Play Call of Duty, watch fucking every bowl game. But if you're complaining and you're struggling and you're hungry and you can't breathe 'cause you want to win like me, well then do this. Because every one of you has a foundation of between $500 and $5,000 worth of junk in your closet, attic and garage basement right now. Every one of you. It's insane. Even the poorest of us in America have stuff laying around. A jacket you're not wearing any more. Sneakers that are out of style. Those sneakers go for $19.
6:12 It always comes down to the work. This is the most practical real advice that I've given that actually generates dollars. It is massively important if you want to be successful in life to know and try and learn how to make money. If you don't learn that, you are vulnerable in any business or anything that you create and so I'm very excited about this.
6:33 Young and old learning this craft because you learn supply and demand, you learn market conditions, you learn speed of execution, you learn so many things.
7:37 So that's the punchline that's the challenge. $20,170 in my opinion easily made, easily made this year if you take the 3 to 500 hours that you're gonna throw directly in the trash doing jack shit and applying it to becoming educated and learning the markets.
9:00 And I do believe that an enormous amount of people in my community can make $20,170 this year converting leisure time into flipping time.Going to Goodwill, going to garage sales. We're gonna go hard.
More Info On The Gary Vaynerchuk 2017 Flip Challenge
As Gary says, if you're hungry enough, if you need or want more money, this is a great way to go and get it.
If you think you can't afford a house because you don't have a down payment... think about what $20,170 could do for you. 
If you take on the $20,170 flip challenge and make that much money, that could easily be 3.5%, or 5% or even 10% of your down payment on your house. 
So make sure that you watch the 2017 Flip Challenge Gary Vaynerchuk video above and then check out these links for communities popping up on Twitter and Instagram sharing ideas and successes. 
More Info On Gary Vaynerchuk & Darin & Katherine Persinger
Darin has been acquainted with Gary Vaynerchuk since before his first book Crush It was published. Gary is the best selling author of 4 books.  
Here is a video with Darin and Gary talking about Katherine's real estate brand from back in the day. 
Here's another video of Katherine and Darin talk about what they learned from a small Gary Vaynerchuk event. Gary makes a quick appearance at the end.  
Darin took some of Gary's advice early on and used that to leverage what he was doing online to become a highly sought after speaker in the real estate industry. 
Later, Darin even ended up speaking at the same event as Gary and got to catch up with him and share with him the success he was having, thanks to Gary. The event was in at the MGM Grand in Las Vegas, with 9,000 real estate agents. The other keynote speakers were Condoleeza Rice, motivational speaker Tom Ferry and best selling author Chris Smith. 
This is why Katherine and Darin love the idea of the 2017 Flip Challenge. They have both used Gary's ideas and advice in the past to bring better results to the business. 
Now, Gary is presenting an idea that non-business owners can implement to increase their earnings, and we support this idea. Especially when you look at how you can leverage this Flip Challenge from Gary into buying a home and what being a home owner can do for you. 
Why You Should Use The $20,170 Challenge To Buy A Home
At Persinger Group our passion is real estate. It's our mission to show people what's possible through real estate and the power of homeownership.
It's our belief:
A home is where memories are created and memories are shared.
Home ownership should be a priority.
You start where you can start.
A home is Forced Savings Account.
Real Estate is the best investment.
Real Estate is a pathway to wealth and an enjoyable retirement.
Homeownership not only creates security for yourself and your family it's a powerful vehicle to create wealth. Real estate is just something we help people buy and sell so we can make money. We believe in it. That's why we own four investment properties ourselves. 
We didn't do anything crazy or creative to buy those homes. We just worked hard, saved smart and invested wisely. 
If you can't find any other path to your down payment, we believe Gary Vaynerchuk is giving you one with the 2017 Flip Challenge. 
QUICK RECAP
Watch the Video Above.
Check out the community links on Twitter and Instagram.
Come back here often at this link where we'll keep sharing new content about making more money for your down payment.
LIKE Persinger Group on Facebook.
Reach out to us with any questions you have about this Flip Challenge, real estate, mortgages or down payments.