In the video below, housing expert, Ivy Zelman talks about why now is the best time to buy a house.
What you'll hear in the first part of the video is about home buying, millennials and builders. In the second part of the video she starts sharing about stocks to buy because she believes the housing market is still on the uptick, especially home builders.
Just adding my 2 cents to this conversation, obviously the best time to buy a house is dependent on your individual situation. But I hear many people talking about "missing" the market. That they some how should have bought two years ago, (even though they weren't ready), and now because home prices are up, it's not a good time to buy.
But the question should be, what is home affordability? Not are homes more expensive?
Check out this picture.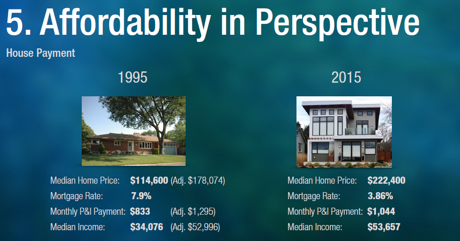 As you can see, home affordability is better today versus 20 years ago, adjusted for inflation. 
Now, of course if these numbers feel low, it's because they are nation wide medians, not the numbers here for Snohomish County real estate, or King County real estate. 
But real estate in the local area tends to run a bit more expensive than the median of the rest of the county, even 20 years ago. 
The great equalizer is interest rates. 
So, yes home prices are increasing, but unless you're paying cash, your monthly payment is probably more important to you than the median price of homes. And with historically low interest rates, your monthly mortgage payment could be surprisingly low. 
Housing Guru Ivy Zelman: It's the best time to buy a house curated from CNBC
"Housing guru Ivy Zelman told CNBC's "Fast Money Halftime Report" on Monday that "now" is the best time to buy a house. "It's the best time in the history of our country with mortgage rates that are below 4 percent that [renters] can actually lock in their fixed cost and create wealth for themselves," she said.
The founder and chief executive of Zelman & Associates is known for calling the housing peak in 2005 and the housing bottom in 2012. Zelman said this housing cycle is like a "tale of two markets." She said the entry-level market is beginning to accelerate, and builders' trepidation is slowly beginning to fade as more people are beginning to move to the suburbs.
The market would seem to be in agreement with her on that. The SPDR S&P Homebuilders ETF (XHB) was trading up more than 1.15 percent Monday morning, and on pace for its best day since Sept. 22, when the XHB gained 1.11 percent. On the other hand, she said the luxury markets in some cities are in the beginning see "a little bit" of a correction. When asked about whether millennials will ever buy homes, Zelman said they are beginning to buy houses, but mainly those who are starting a family. "What we're seeing is that they want to go to the suburbs, millennials are buying and we have nearly 75 million of them just beginning to come through the pipeline," she said."