Homes for sale in Lake Stevens are selling fast.
The Lake Stevens real estate market is booming: An increase in sales prices, new construction and a new downtown area in Lake Stevens.
The speed at which homes are selling for gives us an indicator of the real estate market. It also gives home buyers info on what their expectations should be when entering the market and trying to buy a home: How competitive is it? How much can they negotiate? Etc.
If you're a home seller you're probably questioning:
"How long will it take to sell my Lake Stevens home?"
... so that you can make plans on your next move, when to sell and how soon to start preparing your home for market.
Days On Market (Average vs Median)
Let's quickly get on the same page about terms and definitions, so we can look at these numbers through the same frame.
Average is defined as taking the sum of all the numbers, divided by the amount of numbers in the set.
Example of Average Days On Market: 10, 15, 50. Average would be 25.
The median is identified by separating the higher half of the data from the lower half. In simple terms, just think of it as the "middle" number of of the data.
Example of Median Days On Market: 10, 15, 50. Median would be 15.
Calculating using Median, whether it's Day On Market or Home Values seem to be a better statistical measure for calculating real estate market data and trends on a local level because median values are less likely to be skewed by very high or very low numbers.
And of course, this can easily happen in a a city like Lake Stevens where you have the Lake Stevens waterfront homes for sale. These homes will tend to be more expensive and likely take a bit longer to sell, throwing off the averages of Days on Market and Home Values.
The Facts On How Fast Lake Stevens Homes Are Selling
According to Biz Journals in Denver, homes in Denver are selling faster than anywhere else in the country.
"Denver was the fastest market, with nearly half of all homes going under contract in just six days, down from 11 days a year earlier. Seattle was the next fastest market with seven median days on market, followed by Portland, Oregon, and Tacoma, Washington at 10 days."
How does the Lake Stevens real estate market compare with these heavy weights like Denver, Seattle, Portland and Tacoma?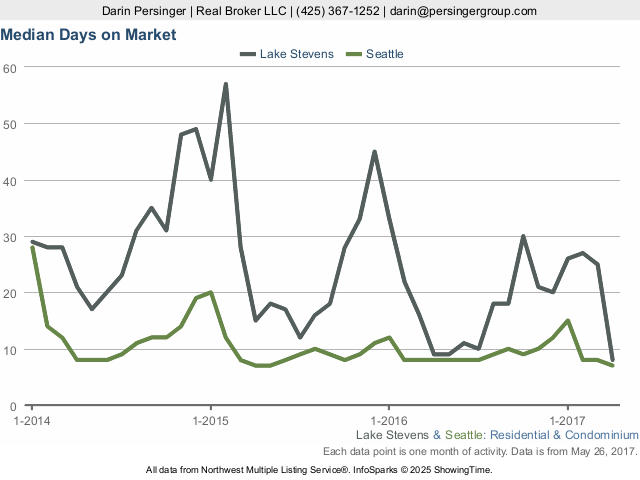 Looking at the real estate data trends chart above you can see the median days on market in Lake Stevens has bounced around a lot over the last few years.
In March of 2017, the Median Days on Market was 25 in Lake Stevens.
It dropped to just 8 days in April.
That means the Lake Stevens real estate market, on how fast are homes selling, is just behind market leaders like Denver and Seattle. But actually ahead of others making the list, like Portland and Tacoma.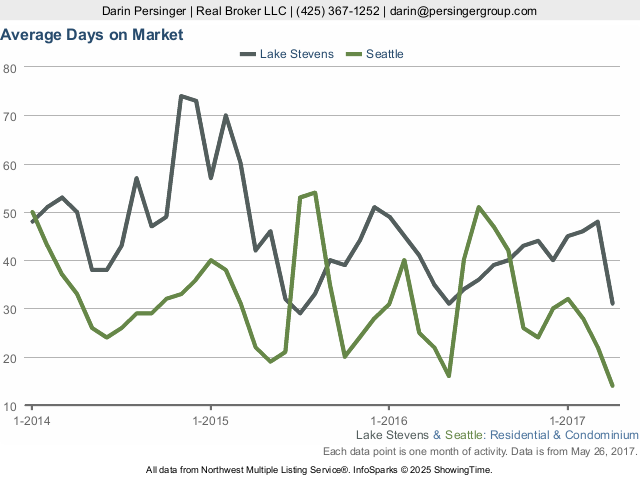 When looking at Average Days on Market you can see that numbers are a bit higher.
The Average Days on Market for Seattle Real Estate is 14 in April of 2017.
The Average Days on Market for Lake Stevens Real Estate is 31 in April 2017.
Thoughts & Opinions On How Fast Lake Stevens Homes Are Selling
As I explained the difference between averages and median above, you can see for yourself how different the numbers really can be.
This is because you do have some outliers of very high prices homes, but also because you have some home sellers getting too greedy and/or their real estate agents missing the mark(et) when pricing the home for sale.
Two Things To Consider When Looking At Days On Market
Homes aren't just selling for full list price. They are selling for over list price.
In Seattle, homes are selling for about 107% of List Price.
In Lake Stevens, homes are selling for about 102% of List Price.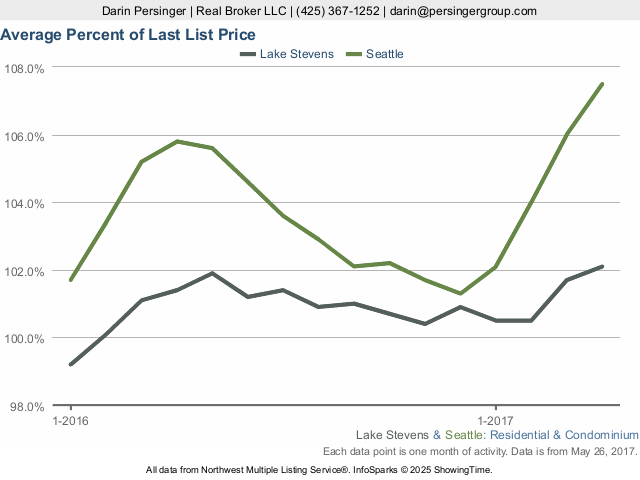 WHAT THIS MEANS AND WHY GETTING LIST PRICE RIGHT IS SO IMPORTANT
If you're a home seller and you hear how the real estate market is hot, you might think you get to list your home for any price you want and you'll get it.
That would be wrong.
Serious home buyers know that in today's real estate market with homes selling so fast, they don't get to come in below list price and try to negotiate on price. They will most likely have to pay full asking price, (or 2%, or 7% above or more)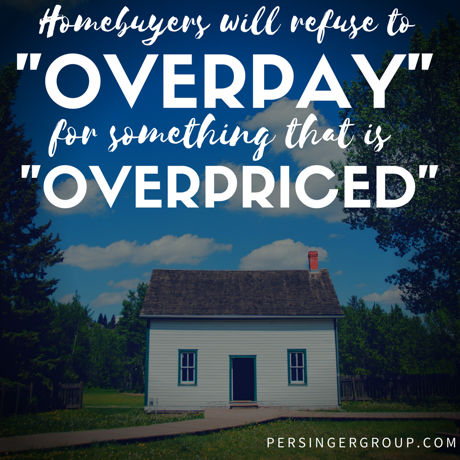 This means as a home seller, if you list your home too high, and buyers are assuming they have to come in higher, they will pass on it. A homebuyer is already feeling they have to "overpay" in this real estate market. They are definitely going to refuse to "overpay" on something that is "overpriced."
When this happens, and it does, a home sits on the market for a couple of weeks, buyers and real estate agents start to think something is wrong with it. Now it starts to get overlooked, pushing the days on market back to 20, 30, 40 days. These listings are the ones causing the increase in the average days on market.
OFFER REVIEW DATES
There's a trend taking place in our area of real estate. It's not happening in every market and I've only heard about it happening in a couple different markets, and not often.
In fact, it's been added to our real estate forms and fields in the NWMLS, it was happening so frequently.
An offer review date basically tells buyers we're going to ignore your request to respond by X date and X time. We'll look at all offers that come in during X period and then respond by X date and X time.
There are pros and cons to this, but focusing only the positive, this is good for the seller, that they don't feel rushed to accept an offer right away when there might be a better offer out there. And for the buyers, it gives them time to get into the home, maybe do a pre-inspection and actually make an offer before the home is already under contract.
These offer review dates tend to be between three-five days. And as I said, most listings have them.
So what this means is, I believe if it weren't for these offer review dates, you would see Median Days on Market get dragged down to two or three days.
QUESTIONS OR COMMENTS?
Connect with Darin

Darin Persinger spends his days and weeks, helping people sell their home, making property tour videos and video marketing, helping Katherine with her homebuyers, serving on the Lake Stevens Chamber of Commerce board, serving on the Citizen Advisory Committee for the planning of the new Lake Stevens downtown, VP of the Lake Stevens Business Network, recording a weekly podcast called the Inside Real Estate Show, making a daily vlog called This Is The Life, writing books like, SOLD: What To Expect When Selling Your Home, Home Buying Made Easy, The 5 Levels Of Success For A Real Estate Agent, still speaking & training some times, and playing with his daughter, Morgan and French Bulldog Pearl, as much as possible.