IS COEUR D'ALENE A GOOD PLACE TO LIVE?
It Depends.
Life in Coeur d'Alene has a lot to offer.
Including plenty of the normal Pacific Northwest outdoor activities, a friendly small-town atmosphere and excellent schools.
If you're looking to move, escape one of the big cities, or a metro area, Coeur d'Alene ID could definitely be a community at the top of your list.
It's one of those - not so hidden gems - that has seen a lot of growth over the last decade.
RetireBetterNow.com listed Coeur d'Alene as one of the best 21 places to retire.
What makes Coeur d'Alene a great place to live; it's right on the water, has over 40 parks, safe, things for families to do, ample amounts of golf courses, places to enjoy winter sports, skiing, snowboarding and tremendous, diverse restaurants.
It always seems to be on a Best City To Live list or Best Places to Visit list. It's right
Coeur d'Alene sits on the north shore of the 25-mile long Lake Coeur d'Alene and to the west of the Coeur d'Alene Mountains, in the panhandle of northern Idaho.
Locally, this amazing place is known as the "Lake City," or simply called by its initials, "CDA."
Even though you wouldn't call it a major city, you're not exactly living out in the middle of the country, Nowheresville.
Nearby Spokane, Washington, has a major airport. Spokane International Airport (GEG) is about 40-45 minutes from Coeur d'Alene. It offers nonstop service flights to 22 destinations.
Is Coeur d'Alene A Good Place to Live?
Is life good in Coeur d'Alene, ID?
Coeur d'Alene is a great place and has had rapid growth over the last 20 years.
Let's try to give you a sense of the area and what you expect from life in this city.
Then you can decide if living in this beautiful place is a good area for you and your family.
And as you get more serious about your decision to live in Coeur d'Alene, be sure to check out our Moving to Coeur d'Alene guide.
Coeur d'Alene is a tight-knit community
Coeur d'Alene is a tight-knit community that offers plenty of activities for its residents. If you're looking for a community where you can get to know your neighbors, living in Coeur d'Alene is the place for you.
With its small-town feel, you'll be able to easily make friends and get involved in the community. And with all of the outdoor activities available in the area, you'll never run out of things to do.
Sure you can slow down, rest by the lake and enjoy the view.
But even though Coeur d'Alene has a small-town vibe it's not a small town.
According to the latest US Census the city of Coeur d'Alene has a population of about 53,354. Spokane, Washington is located only about thirty miles to the west.
These two cities are the key components of the Spokane–Coeur d'Alene Combined Statistical Area. The population of this area was 734,218 as of 2019. Making it the 71st largest Combined Statistical Area in the United States. This gives the combined area major city conveniences and big city amenities.
Coeur d'Alene Weather and Temperate climate
You'll definitely find all four seasons here. But the weather and temperatures might not be as extreme as you'd think.
Fortunately, winter in Coeur d'Alene gets cold, but it's still not too cold. Coeur d'Alene Idaho hits a winter low in January at 24.5 degrees.
For comparison;
Bozeman, MT hits 13.3 degrees.
Denver CO, is 17.9 degrees.
And Boise, ID hits a January low of 23.7
The City Of Coeur d'Alene's average snowfall is 42 inches of snow per year. The US national average is 28 inches of snow per year. It's surprising to most people how little snowfall Coeur d'Alene receives.
The chart below shows that Coeur d'Alene has received less than four feet of snow on average each year for the past six years.
Somewhat interesting is how few days there is snowfall. The blue squares represent the days of snow.
And if you're relocating from somewhere else that doesn't have snow or it rarely snows... you might be concerned about driving in the snow.
The difference between places like Seattle or areas of California that rarely get snow, the city of Coeur d'Alene is prepared for it. They have the right equipment to plow the streets and make driving safe.
With its moderate temperatures, you won't have to worry about the cold weather too much.
The same idea applies for the summer months. It'll never get too hot. But you'll see plenty of blue skies. And during the summer is when this area really shines. Time to get out on the lakes and do some boating.
With all of the activities that are available, you'll never run out of things to do.
When it's cold out you can enjoy ice skating at CDA On Ice.
What is Coeur d'Alene On Ice?
An outside seasonal ice skating rink is made in McEuen park. It runs from the last weekend of October through January.
Or enjoy one of the many snow skiing and snowboard resorts nearby. A little winter never hurt.
SKI RESORTS NEAR COEUR d'ALENE
49 Degrees North Ski & Snowboard Resort
Lookout Pass Ski & Recreation Area
Mount Spokane Ski & Snowboard Park
Schweitzer Mountain Ski Resort
Silver Mountain Resort
GOLF COURSES NEAR COEUR d'ALENE
During the warmer months there is also plenty of good golf courses to keep you busy. Including the Coeur d'Alene Resort and Golf Course. Which is world-renown for the only moveable floating green, the 14th hole.
Avondale Golf Course, Coeur d'Alene Golf Club, Coeur d'Alene Resort Golf Course, The Golf Club At Black Rock, Gozzer Ranch Golf & Lake Club, Hayden Lake Country Club, Highlands Golf Course, The Links Golf Course, Ponderosa Springs Golf Course, Prairie Falls Golf Club, StoneRidge Golf Course and Twin Lakes Village Golf Club.
Coeur d'Alene Outdoors and Nature
CDA residents enjoy hiking, biking, camping, sailing and boating during the summer. Winter sports include skiing, snowboarding, skating, and snowmobiling.
It doesn't matter what season, nature is within easy walking distance. Local people are particularly attracted to Lake Coeur D'Alene.
The town has great trails and parks. It feels like all roads and trails lead to the lake.
Then there is Tubbs Hill.
You don't have to drive an hour out of town to go to a state or national park to enjoy the outdoor life. Tubbs Hill, right in the downtown area, is a local favorite for hikers, runners and for fishing. The hill offers stunning views of the Lake Coeur d'Alene and the surrounding mountains.
The trail is about 2.5 miles long, making it the perfect length for a morning or afternoon hike.
Visit Cherry Hill Park
During the winter be sure to visit Cherry Hill Park for some sledding. During the summer, there's a BMX track.
Coeur d'Alene Parks
In all, Coeur d'Alene has nearly 40 area parks. Four are dog parks!
Visit the City of Coeur d'Alene Parks page for a list and location of them all.
Delicious dining In Coeur d'Alene
Although it has only a small population, the town has big city amenities and offers plenty of options in terms of restaurants.
As far as small towns go, this is not your average one.
You won't be missing out on much of anything by moving to Coeur d'Alene.
The Dockside restaurant offers American dishes and waterfront views. It features modern upscale food.
Crafted Taphouse + Cuisine provides a perfect place for a beer nerd to get the perfect fix.
Beverly's ranks as one of America's top restaurants, Beverly's has incredible views from The Coeur d'Alene Resort's 7th floor.
The Cedar's, the region's only floating restaurant, opened on the Spokane River in 1965 and has been serving up the finest and freshest meats and seafood since.
For a much more casual dining experience, you can head down to the Buoy. The Buoy sits at the bottom of Tubbs Hill, near the Coeur d'Alene resort with great views of the water.
Coeur d'Alene has plenty of excellent restaurants to choose from, whether you're looking for a casual dining experience or something more upscale.
Sushi to burgers.
Breweries to winebars.
And coffee shops everywhere.
Not just Starbucks.
Because it's a resort town, this makes Coeur d'Alene a good place to live. You get all benefits of "big city" dining options without all the downside.
Sure, the area gets busier during certain times of the year. But how many small towns have these kind of restaurants options?
Coeur d'Alene is a growing small town
Many people are leaving California and Washington, and moving to Idaho.
California has been steadily losing people to other states for years. From 2010 to 2020, about 6.1 million people left.
While Idaho leads the country in population growth ​for the fifth year in a row. From 2020 to 2021, Idaho's population grew 2.9%, welcoming 53,000 new residents, according to U.S. Census Bureau population estimates
For those leaving California this could be for a lower tax burden. For both those in Washington and California it could be the more conservative culture, lifestyle or great schools.
Whatever the reasons are, many people are deciding that Idaho is a good place to live. And then it's deciding what area of Idaho is the place to make home.
Idaho's top growth cities are Moscow, Coeur d'Alene and Twin Falls. Other notable net-gain cities include nearby Post Falls, Pocatello, Ammon, Lewiston, Nampa and Boise.
With so many moving to Coeur d'Alene, the growth could be seen as a negative for some.
Will Coeur d'Alene continue to be the charming North Idaho small town?
Will a bigger population hurt the vibe?

What will this do to the local economy?

Is it possible to find affordable places to live?

How is this impacting house prices?
With the fast growth, comes growing house prices. Rents are going up, and many people are finding it difficult to find a place to live. This is causing some tension in the community, as people who have lived there for a long time are finding it harder to afford to stay.
You're not moving to Coeur d'Alene because it's one of the most affordable places.
In the image below you can see the the median home price in Coeur d'Alene was $598,825 in December of 2021.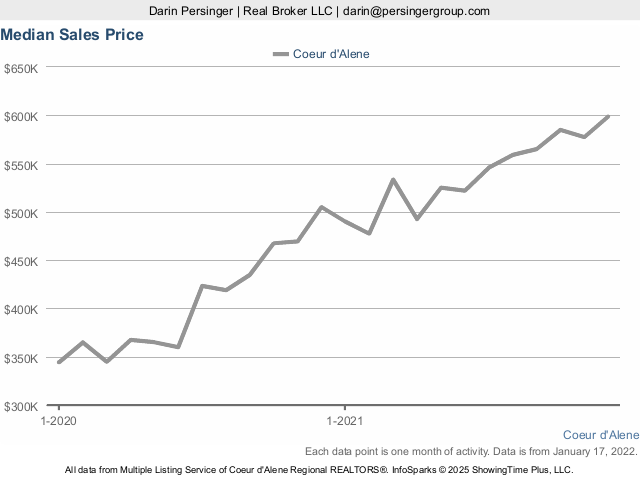 The national average, I should say national median sales price of single-family existing homes was $363,700 according to third quarter data from National Association of Realtors.
The Census reports that the median household income for the Coeur d'Alene Idaho area was $62,579 in 2019.
The median household income isn't exactly matching up with the median home prices. Making it a struggle for many to find a home they can afford.
Many who were thinking about living in Coeur d'Alene are finding more affordable places are in towns nearby. Like Post Falls, Hayden or Rathdrum.
Any Jobs In This Small Town?
The local economy is good with an unemployment rate of 2.4%. The national average was 3.9 percent in December, 2021.
The job market is good depending on who you are. There are plenty of places hiring. As it is a resort area many of the jobs are going to be in hospitality.
Young professionals moving to Coeur d'Alene looking at being able to afford a home will want to be able to either work from home or maybe look for job in Spokane.
And finally, with more people moving to Coeur d'Alene comes more traffic. This can be frustrating for those who are already living here.
Coeur d'Alene traffic and commute times
As I stated at the beginning of this article - the answer to - is Coeur d'Alene a good place it live... it depends.
Many things are relative.
For those living in Coeur d'Alene the traffic is becoming a frustration.
But if you're moving to Coeur d'Alene ID, you might not find the traffic a problem at all.
For example, if you live in Western Washington, the Washington State DOT, reports a "reliable" travel time from Everett to Seattle (23 miles) was 94 minutes. Traffic moves faster in a parking lot.
That's three hours a day, every workday in your car. 15 hours a week. Basically two additional work days commuting.
In contrast, if you're commuting from Coeur d'Alene to downtown Spokane the commute time is about 35-45 minutes to travel the 30ish miles.
So maybe the traffic is a problem for you, but if not, then life in Coeur d'Alene could better than your current situation.
But if you're ever trying to get down Sherman Ave, the main road, on a weekend, during the summer, you'll probably find yourself getting a bit frustrated.
Frequently Asked Questions Living In Coeur d'Alene
Is it cheaper to live in Spokane or Coeur D Alene?
It's cheaper to live in Spokane, WA than in Coeur d'Alene, Idaho. The median home price sold in Spokane is $370,000. Compared to Coeur d'Alene was $598,825. Washington has no state income tax, but overall has a higher tax total tax burden of 8.34% compare to Idaho's 7.88%.
Should I move to Coeur D Alene?
It depends on your priorities. I think this is one of the best places to live, but I also think it depends on your current living situation. And what are you looking for in your lifestyle.
How far is the Canadian border from Coeur d'Alene?
There are two ports of entry at the Canadian border in northern Idaho. Porthill and Eastport. The Canadian border is about 120 miles from downtown Coeur d'Alene.
Is Coeur d'Alene Idaho a safe place to live?
According to the most recent data from the FBI,
Coeur d'Alene has 1,615.1 total crimes per 100,000 people. This is 34.79% lower than the national rate of 2,476.7 per 100,000 people and 11.90% higher than the Idaho rate of 1,443.3 per 100,000 people.
Here you can look at the CDA annual police report.
How much are Coeur d'Alene homes for sale?
You can search Coeur d'Alene homes for sale and see that homes and condos will start in the high $200,000's to low $300,000's and go all the up to over $20 million for luxury waterfront estates.
In December 2021, the median sold price for a previously owned home $530,000. New construction was $626,696.
When You'Ready Here's Three Things You Can Do Now:
1. Look at homes for sale in Coeur d'Alene.
https://www.persingergroup.com/coeur-dalene/
2. Read our Moving to Coeur d'Alene Guide
https://www.persingergroup.com/moving-to-coeur-dalene/
3. Start a conversation with us about your move to Coeur d'Alene
By Darin Persinger | Jan 17, 2022 |